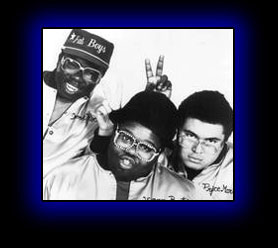 Paul Arnold over at HipHopDX caught up with Kool Rock of the Fat Boys to get the latest on he and Prince Markie Dee's comeback plans.
"What I got out now, the Party Time EP, is like a prelude to the Fat Boys album," Kool Rock told DX. "We're trying to get people warmed up to the name again."
In a casual, but often pointed, interview, Arnold asks Rock about replacing the late Human Beat Box, the cultivation of the group's image early on, the move into covers of old pop records and what he thinks the Fat Boys legacy is in the context of names like Run DMC.
"I think the fact that every parent saw in us just pure fun," Rock said. "Like, those guys are clean. They're not rapping about sexual [stuff]. They're not rapping about raising hell. [Laughs] They're just being who they are. They're just being funny. And they're young. A lot of kids gravitated to us 'cause they just seen these young faces. The legacy for us is just that a lot of people gravitated towards us because we brought that fun element into hip-hop."
Check the rest at HipHopDX.