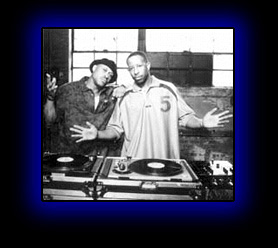 Nearly two months
after suffering a heart attack and falling into a coma
, legendary Gang Starr MC Guru has died. Guru, whose real name was Keith Elam, was 43.
"The world has lost one of the best MCs and hip-hop icons of all-time -- my loyal best friend, partner, and brother, Guru," longtime collaborator Solar said in a released statement. "Guru has been battling cancer for well over a year and has lost his battle! This is a matter that Guru wanted private until he could beat it, but tragically, this did not happen. The cancer took him. Now the world has lost a great man and a true genius."
Guru, one half of the legendary duo Gang Starr, suffered a heart attack and fell into a coma in late February. He had what was considered "successful" surgery on March 1 and reportedly was in stable condition, but information was funneled through Solar and was not always in line with what Guru's family was saying. Some statements since February -- including
a long, sometimes bitter farewell letter
-- have been attributed to Guru, but it is unlikely that he ever emerged from the coma.
"He's still in a coma," Premier
told the Vancouver Sun
on April 8. "There have been a lot of rumors going around. I deal with his family directly, and get my updates from them. ... He's breathing, he's alive, and he's fighting to maintain."
Gang Starr's last album was released in 2003, although he and DJ Premier never officially broke up. Guru continued with solo projects, including the critically acclaimed Jazzmatazz series and an album last year.